Mount Shasta Sacred Sites virtual journey
Mount Shasta Sacred Sites Virtual Tour
Receive an Awakening Transmission from the Comfort of your Home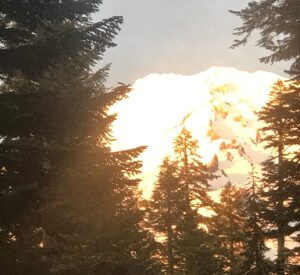 Perhaps you're hearing the call to come to Mount Shasta, but your life circumstances aren't aligned for you to visit at this time.
For the first time, I am now offering Mount Shasta Virtual Sacred Site Journeys.
Thanks to the wonders of modern technology, You can join me for a private session at one of the most powerful sacred sites on this magical Mountain. 
 From the comfort of your home, you'll receive an awakening transmission of pure Mount Shasta energy.
I will guide you through a transforming journey which will enable you to:
*Release old energies and reset your life
*Reconnect Deeply with the Eternal Presence/I AM
* Receive vision and clear next steps to live your True Purpose 
These virtual journeys are custom-designed to honor your deepest heart's intentions.  Before we meet, you will send me information on your spiritual background and practices, current challenges, and objectives for our precious time together.
 I will arrive early at one of my favorite sacred sites and be in a state of deep meditation when our appointed hour arrives. Then we will connect via Zoom or Facetime.
Depending on your intentions, we will do a mixture of cleansing/healing rituals, core belief work, deep meditative journeys home to yourself, visioning, and spiritual life coaching.
At the end of our time together, you will not only feel reconnected and renewed, but you will have practical, doable action steps to help you nurture and sustain the gifts of the Sacred Mountain. And importantly, you will have  the tools to fully integrate them into your life.
I am offering a private tour for one-two people for only $222.
To register for a session, I ask a deposit of $111.  Once I receive your deposit, I will contact you to schedule a convenient time for our virtual journey together.
The deposit is nonrefundable, but 100% transferable to any virtual or live service I offer, with no expiration date.
If you have any questions or would like additional information before scheduling, please contact me.
I believe you will find that once you commit to your virtual journey, your connection with the Sacred Mountain (and with your Higher Self) will be intensified.
Please click on the Buy NOW button below if you're ready to take this powerful next step in your journey of awakening to, and living, your Highest Truth.
Numbers Speak For Themselves
Upcoming Retreats & Tours